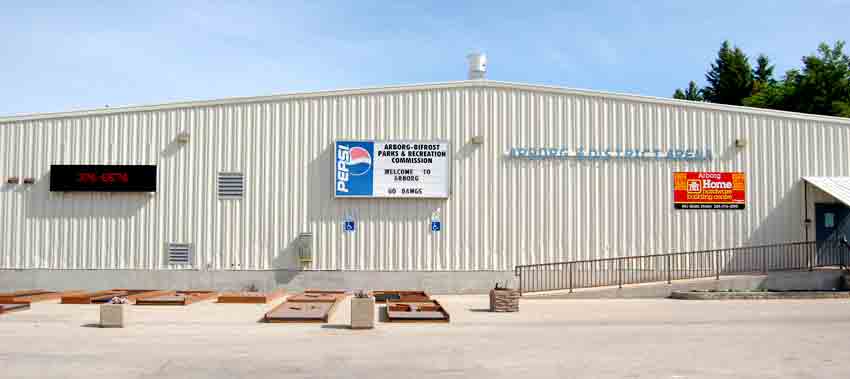 The Arborg & District Arena is the hub of activity during the winter months and can be classified as one of the best in the Interlake.

Features include:
• Large, heated indoor viewing area
• Rink side seating for 800 spectator
• Full commercial kitchen
• 6 large dressing rooms with showers
• Meeting room
• Satellite TV
• Activity Room
The Arena is NHL standard size artificial ice surface. Numerous groups calling it home include:
• Arborg Minor Hockey (ages 5 - 17 years)
• Arborg Skating Club (ages 3 - 17 years)
• Recreation Hockey League
• Arborg Ice Dawgs Junior B Hockey Club www.arborgicedawgs.com
Along with these traditional user groups, the Arena also accommodates:
Public skating - Sunday afternoon, helmets are mandatory.birthday party rentals,
Floor curling - Tuesday, 10 am - 2 pm, $1/person
Hockey with Reims - Boys & Girls, ages 4 - 7 years, starts mid January
40+ Recreation Hockey - Thursday @ 9:15 PM, drop in's welcome.
The Recreation Commission has partnered with Kidsport to supply hockey equipment to youth between 7 - 10 years of age. An excellent way for families to borrow equipment for a season without the expense. Equipment is limited so contact the Recreation office early to avoid disapointment.
The arena is also available for Birthday Party Rental opportunities and each summer offers a daycamp program designed for children between the ages of 5 and 11 years old.

For more information on any program, or to book your event, please call 204-376-5576 or email This email address is being protected from spambots. You need JavaScript enabled to view it..